Based on the internet I learned that:
- HSDPA (3.5G) = up to 14mb dl
- HSPA+ (4G) = up to 21mb dl
If my knowledge is right E357/4G Flash is actually 3.5G unlike the E353/Smart Rocket which is 4G! Which I think make sense because of e357/4G Flash's cheaper price.

So that's it... Globe's fail marketing on 4G naming -- at least for me. Also I don't think unlocking will make e357 to access HSPA+/4G.
Update:
I was able to get HSPA+ once in Ortigas near Robinsons Galleria. So at this point, if you don't need to get an external antenna for your 4G dongle then better buy this instead of E353!
Anyway I'm currently happy with the performance compared with my old Tattoo. The signal coverage is a lot better in my opinion as I'm always getting 3G connection. Check out the screenshots below.
RSSI status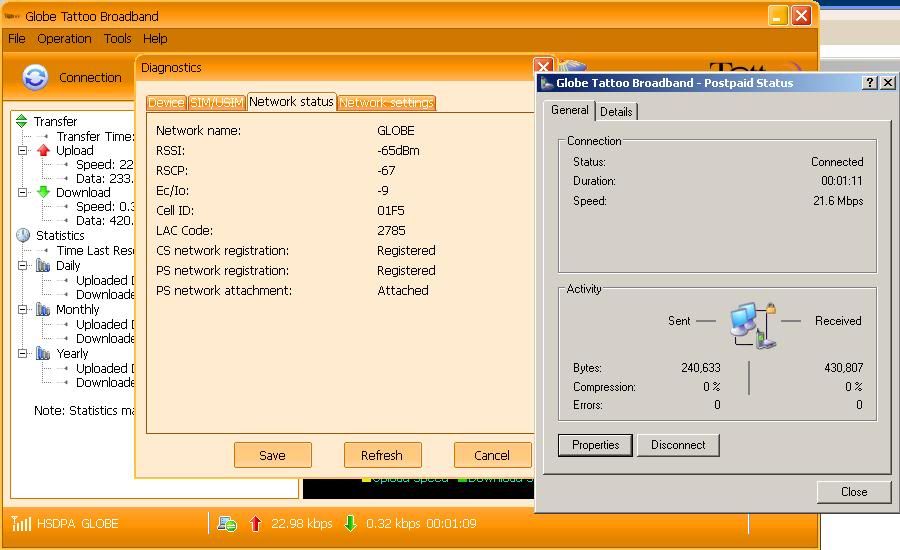 Speed test result 1
Speed test result 2
Do I need to cry for a 7.2mbps? I don't think so, 3mbps is ok for download for now. Well I'm not a downloader these days... at least until I got hold of my 3rd 2TB next month or 2.
You can plug an external antenna to your Huawei E357 and it shows improvement but beware that it may cause the internal antenna to fail. If that happens, you won't be using your E357 without plugging the external antenna. -- claimed some people in symbianize.com.
Instead of putting a hole on my E357, I might just try to experiment and create a home-made antenna one of these days. Something like this...
Lol cheers!
Search results: huawei 4g device, huawei hspa+, 4g modem, e357 hspa+, e353 hspa+, 4g coverage, e357 coverage, huawei tattoo