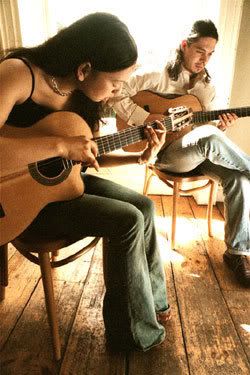 If you never heard of Rodrigo y Gabriela's songs then i think you better watch some youtube videos of their live performances. They are extraordinary I never heard of that kind of music before which by the way has similar sound to flamenco but in modern way.
http://www.youtube.com/watch?v=gJG-OeCB-L8
.
From start to 2:24 are my favorite parts.
I really love their music besides i'm on my way now to grab their cd includes 'Tamacun', 'Diablo Rogo' and 'Orion'... they are my favorites. I have their mp3 downloaded (sorry guys - can't help it) but my car only plays CD. I might buy their live DVD if there is.
Am I only one that has an impression like all mexicans are good in playing acoustic guitar? and Gabriela is HOT?
I would be happy if i can aquire like 1% or their skills. Maaan... never thought my acoustic guitar can be played this way.
Weeee... now my fingers starting to hurt :-(